By the keynote speech of President Xi at the G20 summit and the 2rd China International Import EXPO(CIIE),China will focus on creating a business environment that respects the value of knowledge, comprehensively improve the legal system for intellectual property protection, strengthen the protection of the legitimate rights and interests of foreign IP owners,'strike hard'on IPR infringements by the law. More and more Chinese enterprises are increasingly concerned about IP and innovation.
The 9th and 10th "China Intellectual Property & Innovation Summit" will be held on October 15th-16th in Shanghai, China and October 22nd-23rd in Shenzhen, China.
SUMMIT ONE: Oct.15th & 16th in Shanghai, China
SUMMIT TWO: Oct.22nd & 23rd in Shenzhen, China
About CIPIS
In the past years, China Intellectual Property & Innovation Summit (CIPIS) has become one of the largest IP conferences in Asia; it's kind dedicated to bringing together a diverse set of audiences such as IP experts, owners and investors. The conference will offer a mix of thought provoking and practical sessions covering a range of IP strategies involving trade secrets, trademarks as well as patents.
Series Companies From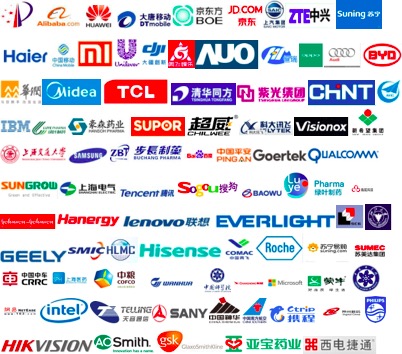 Part of Hot Topics:
Day1:

 Trade War:New Thinking&New Drivers to strength IP protection in China




 The Layout and Optimization Strategy of overseas IP rights of high-tech enterprises




 How's 'Patent Dance' and Patent Linkage System impact on generic drugs




 How should foreign companies defend their IP in China




 How to minimize internal and external Patent Risks

Day2:

 IP Litigation:attack and defend




 Licensing :the view from China




 High value patents mining and its layout




 How to deal with the abuse of law and Malicious complaint for E-commerce platform




 Enforceability of AI patents in the future;how do you train your AI? How do you find out if someone is infringing on your product? Is it really worth the value of having patents?
Speakers:
CNIPA-Officer
Alibaba- Director of IP Protection
Baidu- GM of Patent Tech department
Tencent- Vice director of Legal affairs
JD.com- VP ,head of IP,
SUNING- Vice Director of IP
HUAWEI- Chief legal officer
Qualcomm-VP
Tasly-Legal Director
Kanion-IP Director
TCL- IP Director
COFCO- Senior counsel of IP
Unilever- Head of the patent department
Johnson & Johnson-Vice director of Global Security department
DuPont- IP operation Director
Philips-IP consultant
Chinese Academy of Sciences-Head of Institute of science and technology policy and management science
Midea-VP
Dongfeng Motor Corp-Minister of IP department
AECC-Minister of Legal department
…

中国国家主席习近平在2019年多次着重强调了中国将致力打造尊重知识产权的营商环境,全面改善知识产权保护法律体系,依法严厉打击侵犯知识产权行为。值此背景下,2020年第九届及第十届"中国知识产权及创新峰会"(China Intellectual Property & Innovation Summit)将分别于2020年10月15-16日在上海;以及2020年10月22-23日于深圳举行!
2020年"中国知识产权及创新峰会",由Conways Asia 主办;过去数年中,已发展成亚洲地区最大的知识产权会议之一,致力于打造知识产权领域的管理层闭门峰会。2020年也迎来第九届和第十届峰会。

峰会一:10月15-16日,中国上海
峰会二:10月22-23日,中国深圳
部分热门话题如下:
第一天:

* 贸易战背景下的新思维&新动力——强化知识产权保护的中国前景与思考




* 高科技企业海外知识产权布局与优化策略




* 美国'专利舞蹈'制度与专利链接制度对仿制药的影响




* 外企在华新时代




* 如何应对内忧型与外患型专利风险及其防范

第二天:

* 诉讼之道:矛与盾




* 知识产权许可:中国视角




* 企业高质量专利挖掘与布局




* 如何制约滥用法律与平台规则漏洞进行恶意投诉现象




* 涉数据信息不正当竞争行为相关问题研究
演讲嘉宾
中国知识产权局
阿里巴巴-知识产权保护总监
百度-专利技术部总经理
腾讯-法务部副总监
京东-知识产权总监
苏宁-知识产权副总监
华为-首席法务官
美国高通公司-副总裁
天士力制药-法务总监
江苏康缘药业-知识产权总监
TCL-法务部知识产权总监
中粮-高级知识产权顾问
联合利华-品牌保护负责人
杜邦-知识产权运营总监
飞利浦-专利总监
中科院-中科院现任科技政策与管理科学研究所所长
美的-副总裁
比亚迪-知识产权及法务处总经理
中航发-法务部部长
……