2018 China Intellectual Property & Innovation Summit 2018-Shenzhen
2018 中国知识产权及创新峰会-深圳站
The 2018 China Intellectual Property & Innovation Summit (CIPIS), organized by Conways Asia, will be held in Shenzhen, China during Nov.1-2, 2018 and supported by influential and authoritative associations, media and governments.
In the past ten years, China has made remarkable progress in the development of intellectual property and has continuously deepened and expanded international cooperation and exchanges with the implementation of the national IP strategy.
In 2018, U.S.-China Trade Conflicts became the focus of global attention. This led to warnings about the hidden dangers of China's manufacturing core technology, and it also shows new connotations to intellectual property management and protection.
As China moves toward becoming a country with strong innovation, the demand for intellectual property protection is not only for foreign-funded enterprises, but also for Chinese companies. The future development of China will surely be based on the strict protection of intellectual property rights.the value of IP is also constantly being recognized and exalting. How to use the well strategy layout of IP to get favorable competition of technology and market is worthy of every enterprise to participate and pay attention.
Based on the internationalization environment and the above questions, the new CIPIS summit has formally started.
CIPIS as the most influential IP industrial gala with a global perspective, in-depth discussion of the domestic and international IP trend and issues.The summit will be set up to cover automotive,telecommunication, electronics, software, Internet, biomedicine, artificial intelligence, big data, blockchain and other frontier and hot topics in intellectual property. we will invited more than 400 IP leaders,experts from series companies around the world to participate and share their insights into the most important IP developments and their future impact.

Series Companies from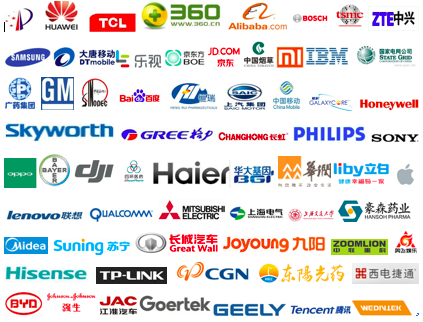 Agenda Framework
DAY ONE - Morning

DAY TWO - Morning

Ten years of implementation of China's intellectual property strategy

intellectual property paves way for innovation

New Era of Global Intellectual Property Layout Strategy

Focus on trade secrets

Section 337 investigation sparks fears of patent war

The status of patent litigation

IP Challenges and Coping Strategies that Chinese Enterprises Facing with Under the China-US trade war

SEPs and FRAND Terms

Patent Operation Under the Environment of Gradually Upgrading IP Protection

IP Risk Prevention and Corporate Compliance

DAY ONE - Afternoon

DAY TWO - Afternoon

The Emerging market for intellectual property: drivers, restrainers & implications

The Magic of Patent Information

Building an Effective trademark Strategy

UNDERSTANDING CHINA'S RECENT HEALTHCARE REFORMS: Opportunities And Challenges Coexist

Unified Patent Court and Unitary Patent

Blockchain + Patent: Get Ready for the Upcoming War

AI, IoT and the implications for IP

Software-Related Patents: Trends, Strategies and Problems

patent due diligence in M&A

IP challenges for Chinese companies doing business in Europe



Previous Eminent Speakers
SIPO
Shanghai IP Court
Shenzhen IP Office
Xiaomi- Senior Director of International Litigation
Alibaba- Corporate Brand Protection Director
Tencent- Patent Director of Intellectual Property Department
TCL Corporation-VP, General Counsel
Datang Telecom Technology Industry Group- Deputy General Counsel
Tianma Microelectronics- Director of Intellectual Property
Hisense- Head of Intellectual Property
ZTE- Chief Intellectual Property Officer
Chery Holdings Group- Director of Intellectual Property
China CRRC- Head of Intellectual Property
Eaton- Head of Brand Protection in Asia Pacific
AstraZeneca- Global Deputy General Counsel
Bayer China- Head of Intellectual Property
Qilu Pharmaceutical- Minister of Intellectual Property
Hot Topics
-How To Build A Culture Of IP Innovation And Turn Every Employee into an Innovation Powerhouse
- New Era of Global Intellectual Property Layout Strategy
- How to Break the difficult situation ---proof,trial & compensation
- Protection of Trade Secrets in a globalised environment
- Tracking Section 337 Rules and Trends
-How online monitoring can support offline investigations
-The latest development of patent linkage and patent term extension reform in China
- Changes and Challenges for Generic Medicines
-U.S. Patent Linkage and E.U. System
-Overcoming the difficulties of evidence collection on patent infringement
-Intellectual Property and Unfair Competition:From Investigation to Litigation &from home to the world
-IP Challenges and Coping Strategies that Chinese Enterprises Facing with Under the China-US trade war
-What is a quality patent? From Bottleneck to Breakthrough: Building a High Value Patent Portfolio
- Patent hold-up and Reverse hold-up
-IP Risk Prevention and Corporate Compliance
- Blockchain + Patent: Get Ready for the Upcoming War
- Cloud Computing,AI, IoT & the implications for IP
- Software-Related Patents: Trends, Strategies and Problems
- Patent due diligence in M&A
- Opportunities and challenges for Chinese companies doing business in Europe
……